A recent study showed that having warm feet while sleeping improves sleep efficiency, decreases how often a person wakes up in the night, and allows users to sleep longer. Used during the day, feet warmers can improve comfort and provide relaxation. Read on for a list of the 10 best foot warmers you can buy, as well as, everything you need to know before you buy a foot warmer.
10 Best Foot Warmers Reviews
Here is our curated list of the 10 best foot warmers according to consumer reviews and features.
1. Proaller Pad
Best Foot Warmer Pad
The Proaller pad has some of the best foot warmer reviews on Amazon. It is ultra-soft, heats up in seconds, and has a long cord so you can comfortably sit on your bed or couch while the cord is plugged into the outlet. The extra-large size means that you can share this foot warmer with someone else so you can both have toasty warm toes.
It has 3 heat settings and is machine washable making this a versatile choice for a foot warmer. At under $50, you really can't go wrong. The only downside is this foot warmer can't be used outside and can get very hot. It does have a 2-hour auto shut off yet users need to make sure that the temperature isn't too hot during use.
2. Gideon Quilted Shiatsu Foot Massager and Warmer
Best Foot Warmer with Massage
The Gideon foot massager and warmer provides a truly spa-like experience in the comfort of your own home. You slide your feet into the plush bootie and enjoy heat, massage, or both. The keypad is conveniently located at hand-level so you don't need to bend down to change massage intensity or heat setting.
This is one of the best foot warmers for home or office use. It can accommodate large feet and can also be used on other body parts. Just unzip the footmuff and you're all set! While it rings in at almost double the price of the Proaller pad, the features are worth the extra cost.
3. Lenz 3.0 Socks
Best Sock Foot Warmers
If you spend the day outdoors, you know how quickly your extremities get dangerously cold. Avoid the pain of frozen toes with a pair of Lenz socks. These functional heated socks work great for construction workers and winter enthusiasts. The integrated heating elements are so small you won't feel them at all on your toes or balls of your feet.
With a push of a button, your feet will be toasty in no time letting you forget about the cold and get back to what you whatever you are doing.
There are various sizes available for even extra-large feet. And best of all, they are machine washable. The only downside is the price tag. Yet many of the best foot warmer reviews agree that they are worth the investment. Check out this list of 15 best ski socks for warm feet.
4. HotHands Insoles
Best Foot Warmers: Disposables
If you are looking for an inexpensive option, the HotHands insoles might be just the ticket. At less than $10 a pair, these disposable heated insoles will keep your feet warm while you are outside.
These insoles are adhesive so they stay put in your shoe. They last up to 9 hours per pair. The downside is that they are one-time use only and don't work for very large feet.
5. Kozy Slippers By Kozy Collar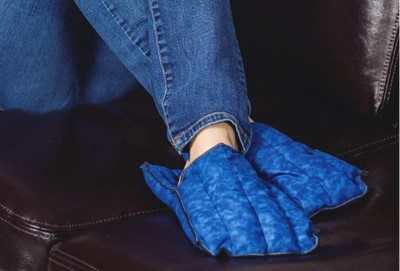 The Kozy Slippers are a great option for those who want to move around the house with warm feet. You're not tied down with a cable because these slippers are heated in the microwave. You can also use them on your hands and chill them to turn these slippers into an ice pack.
The best thing about these foot warmers is that they heat both the top and underside of your foot. Most foot warmers only heat the bottom.
The main disadvantage of these slippers is that the heat only lasts for 15 minutes. Then you have to re-heat them. Also, there's some guesswork involved in gauging how long you need to heat them up for depending on your microwave.
6. TT Toasty Toes Ergonomic Heated Foot Warmer
If you suffer from a cold office, rejoice! The TT Toasty Toes foot warmer is here to save the day. This footrest is designed to warm up your feet while you are at work.
It looks like a regular, black footrest that can be found in many offices. It is ergonomic and adjustable to either sit or stand positions.
7. ObboMed Electric Vibration Massage Heated Foot Warmer
The cozy vibration massage foot warmer is an Amazon Choice product. Enjoy either a strong or gentle massage while you heat your feet in a gentle or fast mode. You can enjoy either the massage or heating separately. Best of all, the temperature gauge prevents overheating and burns and has a 2-hour auto-shutoff.
Powered by 12V voltage, 2A adapter, this foot warmer can reach up to 140 degrees Fahrenheit. Unfortunately, the interior lining is only washable by hand. And it takes up to 15 minutes to warm up. So plan ahead and get the warmer set up before you slide your feet in for best use.
8. Smoko Narwhal Slippers
Best Foot Warmers with USB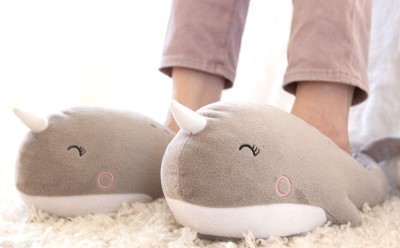 If you want a pair of adorable and warm slippers, these Smoko narwhal slippers are for you. These slippers are powered by a rechargeable battery pack or with extra long USB plugs. Note that these slippers are "one size fits most" so if you don't have an average-sized foot, this may not work for you. The best foot warmer reviews state that a men's size 10 is quite snug.
These slippers can only be spot cleaned on the outside so it's best if you wear socks to avoid getting the interior dirty or smelly.
9. Sunbeam Heated Foot Warming Mattress Pad
For those who have cold feet in bed even with socks on, the Sunbeam heated foot warming mattress pad may be the perfect solution. You can choose a Twin/Full or Queen/King size. The pad sits at the foot of your bed to keep your feet toasty warm while you fall asleep.
Don't worry about overheating, there's a 3-hour auto-shutoff feature built-in. Best of all, this warmer auto-adjusts based on the room and body temperature.
10. Serta Ultra Soft Plush Electric Heated Warming Pad
Serta is well known for comfort. The soft plush warming pad does not disappoint. It can be used on any part of the body and has 4 heat settings so you can choose the perfect one for you.
Slide your feet into the pocket and machine wash and dry as needed.
3 Things You Should Know Before Buying a Foot Warmer
There are several things to consider when you are researching foot warmers.
1. Types of Foot Warmers
First, you need to decide the type of foot warmer that you are interested in. There are 3 main types: heat pack, heating pad, and wearable foot warmers.
Heat Packs
Heat packs are portable, small, and perfect for being outdoors.
They are made out of active carbon, iron, salt, and water.
To use you shake the pack and place it in your shoe.
They typically last for 5 hours.
There are both feet and toe warmer options. If you work outdoors in the cold or do winter sports, these might be the ideal choice. The downside is that these are one-time use.
Heating Pads
Heating pads are electric pads that are plugged into an outlet for warmth or use a rechargeable battery. They usually have several heat options such as low, medium, and high. Some have massaging functions while others look like a small blanket or tray.
Wearables
Wearable foot warmers might be socks, insoles, or slippers that give off heat. You can wear these indoors at home or outdoors in your shoes. These usually come with a rechargeable battery so you can enjoy warm feet every day
2. Safety
The main consideration when shopping for the best foot warmers is the safety of each device. After all, foot warmers are a heat source that is coming in direct contact with your body, so you need to be careful and take certain precautions.
Read the manufacturer's instructions on any foot warmer you purchase. In most cases, heat warmers should not be applied directly to your skin. That means you need to wear socks or use a towel as a barrier between the heat source and your skin.
If you ever feel that the intensity of the foot warmer is too much, discontinue use immediately and check the setting, if applicable.
Make sure to consider any health issues you have before deciding on a foot warmer. Bacterial or fungal infections could spread and worsen when exposed to heat. Make sure you are always dressed for the weather whenever you plan to spend time outdoors. Review this list of best thermal underwear to keep you warm and safe in the winter months.
3. Environmental Impact
One of the major considerations when shopping for foot warmers is the environmental impact. If you are using single-use heat pads and plan to use them regularly, these will be making a significant impact on landfills.
While the material inside the single-use heat pads might be natural, the packaging and outer shell likely contain non-biodegradable and synthetic materials. If you prefer to avoid waste an electric or battery-operated foot warmer is your best bet. Make sure to unplug the device when not in use to save energy. Also, make sure to dispose of old batteries safely.
Benefits of Owning a Foot Warmer
Foot warmers have many health benefits for those with joint or circulatory issues. Those with Raynaud Syndrome experience reduced blood flow to fingers or toes. The Arthritis Foundation recommends heat therapy as a fast and easy way to relieve joint pain. People who suffer from arthritis of the ankles and feet could benefit from foot warmers.
People who are on their feet all day may experience sore feet and swelling. Foot warmers can help relieve these symptoms.