Protect your melon. At elevations of 10,000 feet and higher, it sort of makes sense to put that helmet on. Steep slopes, rails, step downs, trees, ice patches, not to mention cannon balls from enemy ships.. there are an array of threats you've got to take into account. Wearing a helmet goes a long way to protecting your dome and preventing the worst from happening. There's a reason virtually all snowboard and ski pro's wear helmets tackling big mountain conditions, they know the risks of brain injury. In many resorts in places like Italy and the UK, you're not allowed to ride unless you're wearing one.
Trailmap: On this run you'll find just about everything you need or could ever want to know about helmets designed for snowsports. First, you'll find a few key tips on finding the best ski helmet for you. Then you'll run into our gear hut where we've stocked up on the top ski and snowboard helmets out there, there's something for everyone. Next up, take a ride to the next hut where you'll find refreshments. At this junction, you'll even happen to conveniently find a selection guide with plenty of information about sizing requirements and other features to consider before buying a helmet.
5 Best Ski Helmets of 2020
Thanks for stopping by out ski helmet gear hut. Here, we are going to check out all the best ski and snowboard helmets that will protect your cabeza, look stylish, and not be too cumbersome in the process.
1. Smith Optics Unisex Adult Holt Helmet
The Smith Optics Unisex Adult Holt Snow Sports Helmet comes in every color imaginable and is one of the most popular ski helmets of this year. A fair price, wide variety of available sizes, and quality Smith Optics construction are the big contributing factors to the helmet's popularity. This is a multi-sport helmet that many skaters and bikers wear in addition to snowboarders and skiiers. One of our favorite features of this helmet is the convertible pad kit, which allows you to customize the helmet to weather conditions. If it's a sunny day at the mountain, simply remove the ear padding and go light.
Smith's AirVac systems also does a top notch job of keeping your noggin' cool. A whopping total of 14 vents get the job done. The Dual Regulator ventilation system is a fancy way of saying the helmet has both front and rear venting sections. The front section stays sealed and the rear section exhausts heat. That does a good job of controlling temperature and moisture, keeping you comfortable and your goggles clear. You can also purchase the Skullcandy Audio System separately which integrates into this helmet's padding seamlessly. This audio system is for experienced riders only, always be aware on the mountain!
2. Smith Optics Junior Zoom Helmet
The mini version of Smith's Holt Helmet is the Zoom Helmet designed for kids. This is our top pick for the best kids ski helmet that will—with any luck—last them a few seasons or more until they totally outgrow it. A fairly priced item, the super soft tricot lining is furry and agreeable to the little one's sensitive ears. The lightweight design doesn't burden them too much either, so they can focus on important task at hand: learning how to ski or snowboard. This helmet does an excellent job of protecting what's precious and as a bonus increases their cuteness points. The Junior Helmet comes in a dizzying 21 color options. We suggest selecting a bright color to make them easier to spot and keep track of at the busy mountain.
3. Anon Blitz Helmet
We dig the look of the Anon Blitz Helmet, and with 10 style options, you are sure to find something that tickles your fancy. This helmet is Skull Candy ASFX audio compatible, so if you want to upgrade to an audio system down the road it's no problem. Five size options: x-small, small, medium, large, and x-large means you can customize the fit no matter how ginormous your brain is. The price isn't shabby either, one would expect a name brand like Anon to really jack up the cost, but that isn't the case with this model.
A removable goggle clip, goggle ventilation channels, expedition fleece liner and ear pads (very soft, very nice, we like), and the Edure-Shell ABS construction are features that round out this ski and snowboard helmet nicely. The brim helps keep the sun out of your eyes on those bluebird days, but doesn't protrude to the point of being annoying.
4. K2 Diversion Ski Helmet
K2 is a premium ski equipment manufacturer and one of the best brands in the business. Their Diversion Ski Helmet is pricey but the adjustable fitting system is unparalleled by lower priced models. This helmet is a head turner on the mountain and offers a best in class fit thanks to the 360 K2dialed Fit System. The dial in the back is easy to use and adjust on the fly.
A big bonus feature on this helmet is the K2 Baseline Audio system that is built into the Diversion. The speakers are so small not to be cumbersome when not in use, but pack enough punch to enjoy your favorite tunes when the time is right. In addition, the audio system integrates with your mobile phone so you can put in a few orders with your stock guy while riding the lift up the mountain. The K2 Diversion is our pick for the best ski helmet with audio.
5. POC Fornix Helmet
If its good enough for Olympic athletes, it's good enough for the rest of us. The POC Fornix is for the rider who has had a very successful pirating career (as in money is no issue). Coming in at around $150, it's nothing to sneeze at. When it comes to protection however, it's better to be safe than sorry. This award winning helmet offers one of the best weight to protection ratios out there, and is well ventilated to boot.
The trick behind this helmet's construction is aramid strings. This robust material was weaved with the foam liner and maintains rigid structural stability and optimal impact absorption. Less impact being absorbed by the skull + more impact being absorbed by the helmet is always a good thing in our book. The ear pads and are not detachable on this unit, but if you want a POC helmet with that feature we suggest their BUG 2.0 helmet.
The goggle vents which POC has dubbed the VDSAP system (Ventilated Double Shell Anti-Penetration) do an excellent job of removing steam from your goggles. The fixed goggle clip integrates well with most goggles such as popular Oakley models and of course most all POC goggle models.The glossy finish and minimalist design altogether makes for a clean, stylish looking ski helmet that will serve you well.
The Captain's Orders: Be Aware of Your Ability Level and Protect Your Dome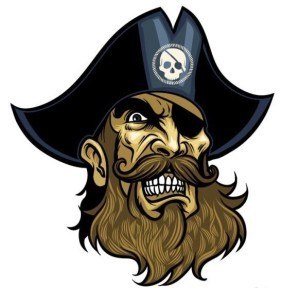 There are two camps of mountain goers it seems like—those that refuse to wear a helmet and those who won't step outside of the lodge without one. Evidence and data are slim on the subject. One of the most recent studies (conducted by the National Ski Areas Association of America) published in the New York Times stated the amount of people wearing a helmet while engaging in alpine sports increased from 25% of people in 2003 to 70% of people in 2013. If true, that's a pretty massive increase. Furthermore, their findings indicated that while there's been an increase in people wearing helmets, there has not been a significant decrease in head injuries. Now maybe that's just more people drinking too much beer at the mountains or the most simple explanation is that the fact that someone is wearing a helmet isn't going to reduce the chances they take a hard fall. So clearly wearing helmets isn't going to completely eliminate head injuries, riders are still going to take risks and sometimes they aren't always going to work out.
The whole picture is that helmets obviously won't prevent all head injuries but they are good at reducing the severity of the injury. Furthermore, helmets can effectively prevent surface injuries such as head lacerations and fractured skulls. The same study we cited above showed this type of injury had been reduced by 50% thanks to helmets. Another common misconception is that helmets reduce visibility and cause additional whiplash and/or neck strain. Data compiled in this study completed in 2012 demonstrate that this is not the case. While certain helmet designs may slightly reduce visibility and hearing, it is not significant enough to increase collision risk.
The fact of the matter is, for the worst of collisions a helmet isn't going to make you immune to head trauma. Serious brain injury and concussions are caused by your head colliding with something rigid at high speed followed by an abrupt stop. This causes the human brain to bounce around inside the skull and even wearing the best ski helmet is going to prevent that from happening. Again, this is not to say that helmets do nothing. The data shows that they do help prevent certain kinds of injuries and the severity of specific injuries. You're better off with one on than without.
The biggest thing we can encourage our readers to do is to be aware of their ability level. Don't let your ego get in the way, start with easier runs/rails/etc and build your skill level up. Don't let peer pressure land you in a triple black diamond that's way above your pay grade. By always being aware of what's going on around you and honest with yourself about your skill level, you will avoid the worst mishaps altogether. Just as an experienced skier doesn't need a helmet on to teach their friend new to the sport on the bunny hill, a skier who's built their way up to their first black diamond probably shouldn't be without one.
Common sense and wearing a helmet will go a long way to increasing your safety on the mountain.
Selection Guide: How to Find the Right Ski Helmet for You
Here are the top factors you should consider before clicking that buy button. Whether you're hunting for the best snowboard helmet or the best ski helmet, you'll want to check these features first.
Size
Fit is the most important factor of selecting the right helmet for you. Too loose and you won't be getting the best protection, too tight and you're going to be uncomfortable for a whole day of riding. If you're in a store, the best thing you can do is try it on and do the shake test before you buy it. If you're purchasing online, read the manufacturers sizing charts and then measure your head. Use a soft measuring tape and wrap it around your head just above your eyebrows and ears. That'll give you your head's circumference, which you can then use to find the right size range to buy. Most helmets are measured in centimeters, so write down your number and then look at the size ranges on the manufacturer's product page. Ex: Medium will be around 55-58cm depending on that helmet's model size scale.
Fit System
A quality ski helmet will sport an easy to use adjustable fit system. There are four popular fit systems ski helmet brands use today: air fit, pad, adjustable wheel (aka BOA), or in form fit systems. Our preference is the adjustable wheel fit system, since it is easy to use even with bulky snow gloves on and can be adjusted on the fly.
Venting
Any helmet worth its salt is going to employ an effective ventilation system. Helmets with either sport a passive venting system or an adjustable venting system. Helmets with adjustable venting systems vary in their functionality. Some use a sliding mechanism while others may use a one push button. The nice thing about adjustable venting systems is that on those really freezing days you can seal things up. Inversely, if the sun decided to come out to play you can open all hatches and evacuate all the steam.
Construction/Weight
There is a huge array of weights and materials used in the construction of each ski helmet. The main thing to check is the total weight of the helmet. Lighter helmets will prevent head and neck fatigue but some argue they do not provide as much protection. In addition, you can choose from a half shell or full shell style. Half shell is the conventional design but some brands like POC offer models such as the Auric Helmet that sport the full shell design.