Fall is just around the corner, and for many areas that means snow is coming. Even better, winter comes soon after, which means the winter playground so many of us enjoy will be back in action. Whether you're a new or seasoned splitboarder, you won't have much fun if you're on a board that doesn't hold up to your plans. So how do you choose the best one? The best splitboard for you will depend on several factors, but you can't choose if you don't know what's out there.
Check out these ten reviews of some of the best splitboards and you'll be off to a great start.
How to Choose the Best Splitboard
The first thing to consider when choosing a splitboard is the type of ride you like. The best board for freestyle riding may not be the best board for tackling big mountains. So make sure you know what you're looking for. Your weight and skill should be taken into consideration as well. A board that's smaller for your weight will provide a better freestyle experience. If you're looking for better flotation and stiffness, go for a larger board.
Speaking of size, you'll need to keep your weight and height in mind when shopping for the best splitboard. This isn't a one-size-fits-all kind of thing. Manufacturers provide sizing charts that help you figure out what size of board you need. These charts use height and weight measurements, so make sure you know your info!
10 Best Splitboards for the 2020-2021 Season
Here are our picks for the best splitboards on the market this year.
1. Jones Snowboards Mountain Twin Splitboard [2021 Model]
This men's splitboard offers plenty of great features. You'll love the combination of a freeride nose and freestyle tail. Inside and Outside Traction Tech 3.0 provides great stability and grip. The Explorer Snowboard is ideal for riders desiring an all-mountain splitboard with medium flex. It features a directional rocker profile and progressive sidecut.
2. Salomon Pillow Talk Women's Splitboard [2021 Model]
This Salomon Pillow Talk splitboard is one of the best women's splitboards available for the 2020-2021 season. The Pillow Talk splitboard is offered in both regular and splitboard styles, and it has received some awards for its stiff flex that's ready to conquer the backcountry. You'll get great stability without having to carry around a heavy board. PLUM Hooks, Ghost Green Core, and quadralizer sidecut are only some of the benefits that come with choosing this splitboard. It is pricier than most other boards, so if money is a concern you may want to look elsewhere.
3. Nitro Nomad Splitboard [2021 Model]
This splitboard comes equipped with all-terrain flex and power pods. Nitro offers it in 156, 161, and 165cm sizes. You won't have to stick to market trails with this baby. This board is designed to provide a great experience no matter the circumstances you find yourself in (neck deep in powder included!). And it does so without costing you too much relative to most other expensive splitboards.
4. Lib Tech T.Rice Gold Member Splitboard [2021 Model]
If money isn't an issue, you'll want to check out Lib Tech's latest and greatest for 2020: the T.Rice Gold Member Splitboard. This is straight from Lib Tech's 'experiMENTAL Division' with art created by Mike Parillo (@mikeparillo). Checkout dem fractals!
This is a gorgeous directional freeride splitboard with an Aspen, Paulownia, and Balsa core that is surprisingly lightweight. Lib Tech assures you their magne-traction serrated edges will turn ice into powder. Pick you line and hold to, this board won't let you down.
5. Rossignol XV Sushi LG Wide Splitboard [2021 Model]
This board brings a bit of the beach to your snowboarding adventures thanks to its "fish" design inspired by athlete Xavier De Le Rue. Its name and coloration give a respectful nod in the direction of Japanese Mountain Culture. Don't let its surfboard look confuse you, though. This splitboard is completely outfitted for freeriding and mountain adventuring, not for hitting the waves!
The Rossignol XV Sushi LG comes in 145cm length and the style featured above, optimal for deep sea powder conditions.
6. Ride Splitpig Splitboard [2021 Model]
If you love the thrill of descent, this is the board for you. Though it has a bit of a throw-back look, the Splitpig uses modern technology to give you an awesome ride. You will notice that the boards almost look like they don't come completely together, even when clipped in place. This apperance doesn't interfere with your ride, though. The Splitpig features the short and wide splitboard profile, Ride's Performance Core (bamboo/aspen/Paulownia), and includes pre-Cut Pomoca Climb 2.0 Mohair and Nylon Blend Skins.
7. K2 Split Bean Split Snowboard Package [2020 Model]
While this is a new splitboard from K2 and it offers one of the best rides for this season (plus it has a catchy name!). Available in multiple lengths, you'll be able to choose the one that fits you the best. Features of the K2 Split Bean include an all-terrain baseline, standard damping, and a BAP (Bamboo/Aspen/Paulownia) core.
And to keep things simple, this board comes in a kit. That means when you purchase this board you'll also get a heel rise, blend skins, a Voile puck set and Voile plates. Are you into hiking? Then you'll love this setup. The included skin attachment system allows for hiking possibilities you wouldn't have otherwise.
8. Burton Family Tree Hometown Hero X Splitboard [2021 Model]
If cost is no issue, you need to check out this legendary board. You're looking at the most expensive board on our list. This powder board features a directional camber, directional shape, and medium to stiff directional flex. See a trend there? That's right, this board is taking you in one direction, straight into the backcountry where you can chomp down on some fresh powder. The Burton Squeezebox profile and DragonFly 600G Splitboard Core combine to give you the ultimate control and manipulation. This model isn't recommended for beginners, so make sure you know how to handle this awesome ride.
The Family Tree Hometown Hero X Splitboard features Burton's Split Channel binding capability. It is arguably the most customizable mounting system on any splitboard, so you can fine-tune things and play around as the season progresses.
9. Rossignol Diva Women's Splitboard [2020 Model]
For women who enjoy splitboarding and are looking for the best women's splitboards, the Rossignol Diva Splitboard should be on your radar. Choose from 147 and 152 sizing, whichever works best for you. Whether you're a Diva like the name of this board or not, you'll love hitting the mountain on this board. It features an FSC certified wood core, Magne-traction, Karakoram clips and hooks, a lightweight design, and a tapered shape. For the best snow hike possible, choose The Classic or Hitchhiker bindings and high traction climbing skins from Burton.
10. Lib Tech Split BRD Splitboard [2021 Model]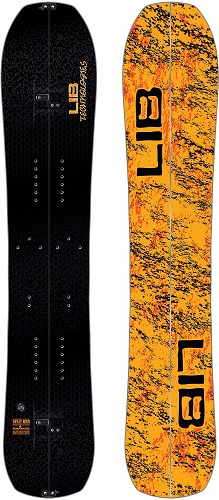 With the Ultra Splitboard underfoot, you can take on any mountain you please. It's built to handle whatever kind of snowy situation you get yourself into. It's playful, it's powerful, and it gets the job done, all while being super light. That lightness doesn't compromise durability, though, so don't worry about that.
Available in five sizes, this splitboard is offered in 151, 156, 159, 162W, and 167W cm for boards of all heights. It features Lib Tech's tapered C3 camber body, 3-D integrated clip inserts, 95% Paulownia core, thin tip and tail, and Karakoram Ultra Clips. Get ready for some epic descents with the Eco sublimated TNT base.
What is a Splitboard?
Splitboarding offers incredible outdoor experiences that you just can't get with a regular snowboard. Well, not unless you want to haul along a pair of snowshoes everywhere you go.
Splitboards are snowboards that split into two halves. They come apart, which allows you to use both feet for movement. Once the board is split, you can walk or hike while you still have your feet attached to your board. The two halves essentially look like mini skis. Since they're not as long, they're simple to walk in.
Why Splitboarding?
Why is this beneficial? Because it allows you to make your way uphill without relying on a machine or taking your snowboard off. Thanks to the split setup and special skins that attach to your board to provide traction, you won't need snowshoes or a lift to get you where you want to go.
Split your board to make your way up to that gorgeous, untouched snowy terrain. Once you're there, hook your boards back together again for an unbeatable snowboarding experience.
Is Splitboarding Fun?
Taking your board apart and putting it back together may seem like a hassle. Wouldn't it be easier to just ride a lift up to the top of the mountain so you don't have to worry about it? Well, that would be the easy way. And you could take it, but you'd miss out on outdoor experiences you won't have otherwise. Hiking in the snow provides serenity and a connection to nature that you won't get sitting in a lift.
So yes, despite having to detach and attach the sides of your board, splitboarding is tons of fun. The best way to see how it suits you is to try it yourself.
Responsible Splitboarding
There's no point in buying the best splitboard if you aren't prepared to use it safely. Before you start out on your mountain adventures, make sure you learn some basics of backcountry safety. Trekking around in the mountains can be dangerous, so take safety seriously.
Some safety precautions include learning the following:
What to do in an avalanche.
How to build a shelter.
Where to find food in the mountains in winter time.
How to fight off wild animals.
How to start a fire in the snow.
Maintaining body heat in cold weather.
Blizzard survival tactics.
You may never need to use these skills. Hopefully, you won't be in a situation where you do. But it's always better to be prepared, just in case.