Last Updated on
Ahoy mateys! Welcome to our secret cove where we have stowed away all the best snowboards treasure we could get our hands on. Truth be told, mountain goers live in blessed times. Whatever shape or style of snowboard you can dream up there's probably something like it available. Whether its your first snowboard or your tenth, buying the best snowboard for you is always a big decision.
Perchance you're looking for that jack of all trades snowboard to do it all or maybe you are hunting for a niche board for specific conditions. No worries, we've got a little something for everyone. One of the biggest factors is cost, since your stick is usually the most expensive part of people's kits, so we make sure to find boards that fit all budget ranges.
Trail Map
Our aim on this page is to help you find the right board to sail high above the lip of a half-pipe or cruise through knee deep pow.
We'll first have a discussion about the most important thing to keep in mind when looking for the right snowboard.
Then we will have a section about the types of snowboards available. You'll find the top snowboard brands as well as a selection guide to look over before hitting the buy button.
In our best snowboards reviews section, you'll find a closer look at the best snowboard treasure for free-ride, park, and all mountain riders.
The Captain's Orders: Match Snowboard to Your Favorite Conditions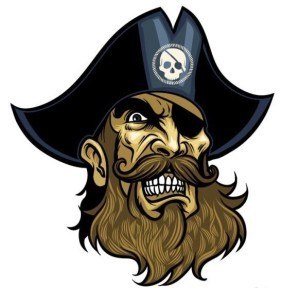 There are literally hundreds of snowboards out there. This abundance is both a blessing and a curse. The great thing for you is that you can find just the right snowboard for your preferred riding style and favorite conditions. The downside is well, you'll probably having to spend some time weighing your options.
Camber profile, width, graphics, color, flex, are just a handful of the characteristics that separate one snowboard from the next. Some boarders want a deck that turns heads while others are only concerned about performance.
Heeding the captain's orders is a wise decision. Some boards will perform bloody brilliant in specialized conditions and be all but useless in others. If the storm gods hath not decided to drop fresh powder and your in the freshly groomed park on a bluebird day, a swallowtail is not going to do you much good.
Any shop employee worth his (or her) salt is going to tell you the first step in selecting a board is finding one that matches your style — 'style' including both visual preference and riding preference.
If you desire to cover the whole mountain and do a little bit of everything, an all mountain board is a great fit for you. Those who like spending mornings in the park and afternoons in the trees should find a board that's pretty good at everything.
Other situations where it makes sense to get an all mountain snowboard is if you aren't sure what you want or you are a beginner who is still trying to figure out their favorite part of the mountain.
Comparison Table I: Top 10 Best Men's Snowboards 2018 Season
These beauties are the finest planks available for the coming season. For more ideas, plow down to our 'Other Popular Planks' section.
| Image | Board | Style | Sizes (cm) | Cost |
| --- | --- | --- | --- | --- |
| | Ride Berzerker | Freestyle | 153, 156, 159 | |
| | Ride Alter Ego | Freeride | 155, 159, 160, 162, 164 | |
| | K2 Carveair | Freeride | 149, 154 | |
| | DC Space Echo | All Mountain | 154, 158, 162 | |
| | CAPiTA Ultrafear | Park | 151, 153, 153 W, 155, 155 W, 157 | |
| | Salomon The Villain | Freestyle | 147, 150, 153, 155, 158 | |
| | Burton Process Off-Axis | Freestyle | 152, 155, 157, 159 | |
| | Rossignol One MagTek Wide | All Mountain | 153, 159 | |
| | Burton Flight Attendant | Freeride | 156, 159, 162 W, 162 | |
| | Gnu Zoid Asym C2X | All Mountain | 159 | |
Comparison Table II: Top 10 Best Women's Snowboards 2018 Season
For the lassie pirates, it doesn't get much better than the snowboards below.
| Image | Board | Style | Sizes (cm) | Cost |
| --- | --- | --- | --- | --- |
| | Rossignol Frenemy Magtek | All-Mountain | 144, 147, 150, 153 | |
| | Ride Women's Rapture | All-Mountain | 138, 143, 147, 151, 154 | |
| | CAPiTA Space Metal Fantasy | Freestyle | 141, 143, 145, 147, 149 | |
| | GNU B-Nice BTX Dots | Freeride | 142, 145, 148, 151 | |
| | Roxy Sugar Banana | Freestyle | 142, 146, 149, 152 | |
| | Arbor Poparazzi Rocker | All-Mountain | 141, 144, 147, 150 | |
| | Burton Day Trader | Freeride | 145, 150 | |
| | CAPiTA Paradise | Freeride | 143, 145, 147, 149 | |
| | Never Summer Aura | All-Mountain | 143, 148, 146, 152 | |
| | Burton Lip Stick | All-Mountain | 141, 145, 149, 152 | |
Comparison Table III: Top 10 Best Kids Snowboards 2017-2018 Season
The boards below are the perfect companion for little tikes just getting their sea legs as well as developing boarders.
Image
Type
Style
Size (cm)
Cost
Millenium 3 Halo Jr - Girls' Snowboard
All-Mountain
135, 140
Burton Chicklet - Girls' Snowboard
All Mountain
80, 120, 125, 130
Flow Micron Velvet - Girls' Snowboard
All-Mountain
130, 135, 140, 145
Burton Chopper Series - Boys' Snowboard
All-Mountain
90, 100, 110, 115, 120, 125, 130
Roxy Poppy Snowboard Package - Girls' Snowboard
All-Mountain
110, 118
Gnu Recess Asym BTX - Boys' Snowboard
Freestyle
110, 120, 125, 130
Burton Deja Vu Smalls - Girls' Snowboard
All-Mountain
125, 130, 134
Capira Children of the Gnar -
Boys' Snowboard
Freestyle
138, 145, 149
Rome Label - Boys' Snowboard
All-Mountain
130, 135, 140, 145
Nitro Future Team - Boys' Snowboard
All Mountain
138, 142, 146
Snowboard Guide Part I: Types of Snowboards
For most intents and purposes, there are three broad categories of snowboards: freeride snowboards, freestyle or park snowboards, and all mountain snowboards.
All Mountain Snowboards
The jack of all trades in downhill, the all mountain category is an apt description of boards and skis that fall into this category. Those who enjoy making the most of their pass by hitting every part of the mountain will probably want to consider an all mountain snowboard. An all mountain board is likewise a smart pick for newcomers to snowboarding, enabling them to experiment on different terrain.
All Mountain Snowboard Summary:
Usually medium to somewhat stiff flex for good balance of stability and response
Regular camber for all around control
Sometimes has hybrid camber shape for middle ground stiffness
May have features like reinforced edges to take a beating and handle icy conditions
Park (Freestyle) Snowboards
Freestyle riders who spend all day lapping the mini park or seeking out rails in town need a trusty park snowboard. Maybe you're hitting 30 foot kickers or maybe your dream is to build up to that, a softer flexing is right up your alley.
Typically park snowboards will sport a twin tip design to make riding switch as easy as possible. These lighter, shorter, and flexy boards are perfect for jibbing, grabs, grinding rails, spins, or even playful riding outside of the park.
Park Snowboard Summary:
Generally shorter, lighter, with twin tips
Wider and more forgiving in the park
Softer flex for top notch flexibility
Mellow side cuts
Not so great at cruising fast on hard snow
Freeride Snowboards
Built for speed demons, freeride snowboards will enable you to get down the hill in the shortest amount of time possible. If you have that "if you ain't first you're last" attitude, you need a freeride board. These typically are stiffer boards and feature longer lengths.
You'll see a lot of sticks with directional shape in this category, helping the boards in this category perform optimally in one direction. Freeride boards perform very well in varied terrain, but they also do okay in groomed runs.
Freeride Snowboard Summary:
Stiff flex built for speed
More nose than tail, prominent side cut for slashing powder
Usually longer with directional shape and stiffer in the tail than the nose
Difficult to butter or do tricks in the park
Subtypes of Snowboards
Here are a couple other categories you may find people talking about when shopping for a snowboard.
Big Mountain Snowboards: Big Mountain is a term used to describe competitive freeride. Essentially, skilled downhill riders will partake in this type of riding: steep, challenging terrain.
Split Tail Snowboards: Some powder boards have the split tail aka the fish cut. This helps provide the nose with ample float even on the deepest powder days, giving boards in this category a surfy feel.
Splitboards: A specialized piece of gear, these boards actually split in half to create 2 skis. This helps climbers on backcountry slopes have better upward mobility especially when matched with a split kit and climbing skins. Upon reaching your destination you reconnect the two halves and ride downhill.
Powder Snowboards: Powder monsters are designed for the rider who spends most their day off groomers and in varied terrain. These boards have a rocker profile aiding the rider in not getting bogged down by the deep stuff. Bindings on these boards are usually placed back to help the rider float over deep pow.
Carving and Race Snowboards: Carving snowboards are the narrowest boards by far. Narrower than freestyle and freeride decks, their long and narrow construction combined with stiff flex are excellent for clean, sharp carving.
Beginner Snowboards: While technically not a category in its own right, beginner snowboards are usually more affordable. Many snowboards for beginners feature rockered shape because that facilitates easier turn initiations. In addition, softer overall flex, directional twin or twin shape are commonly seen in this subcategory.
Snowboard Guide Part II: How to Buy a Snowboard
This section is our snowboard buying guide to help you get started on the right foot. Here are the top features to look for when finding the best snowboard for you.
Shape
There are three main categories of snowboard shape: directional, directional twin, and true twins.
Directional boards a purely designed to be optimal to ride one way downhill.
Directional twins are great all around boards and you'll find this design a lot in all mountain type snowboards.
Last but not least, true twins exhibit no difference in performance regardless of which way you ride them (backwards or forwards). That makes true twins ideal choices for pipe and park riding.
Length
One of the key things to remember is that board length is based on your body weight first and foremost. Your height is the second factor that will play into what size of snowboard you should ride. A shortcut if you're not too worried about it is finding a board length that when rested on the ground the other end is about level with your chin.
Checkout our snowboard length chart:
Width
Width will have a significant effect on how forgiving your board is and how well it cruises in powder. For this reason many park riders and powder hounds favor wide snowboards. If you are 11 or a size bigger, you may want a deck that is wider than standard all mountain width for plenty of room to mount your bindings. For more sizing details, check out evo's how to choose a snowboard page.
Camber
There is regular camber and reverse camber (also called rocker snowboards). Neither is considered better and much of it comes down to your personal preference. Aggressive riders usually lean towards regular camber boards for more edge control while park and rail enthusiasts lean toward the soft feeling of reverse camber boards.
Flat or neutral camber boards are a middle ground that enables quick turns and maximum feel.
Price
Snowboards can be as little as $200ish all the way upwards of $1,000. If you are just starting out, we strongly recommend not purchasing an ultra expensive snowboard before you know you are going to enjoy the mountain and boarding in general. Plus, if you're falling all over the place with a $1200 Burton Vapor strapped to your feet you may get a few jabs from experienced boarders.
Snowboard Guide Part III: Brand Gossip

Though there are plenty of outliers, the most popular brands have some of the best snowboard lines that have garnered a ton of shred cred over the years. In no particular order, here are the top 10 snowboard brands based on overall popularity and sales:
Burton Snowboards. The behemoth of snowboarding gear Burton leads the pack by far in the snowboard category.
K2 Snowboards. Based in Seattle, K2 has been around for awhile and made their first fiberglass ski in 1961 and starting making snowboards in 1994.
Lib Tech Snowboards. Another Pacific Northwest company, Lib Tech is best known for their innovative banana technology rocker shape and magne-traction edge design.
GNU Snowboards. Owned by the same company as Lib Tech (Mervin) all of GNU's boards are hand crafted in the great state of Washington.
Capita Snowboards. CaPiTA is known for creating affordable snowboards that still offer powerful performance.
Ride Snowboards. Ride's slogan is 'building snowboards for the people' and its followed its mission well.
Rome Snowboards. Founded in 2001, Rome has a great reputation for taking customer feedback through their SDS philosophy.
Rossignol Snowboards. A French company, Rossi is one of the oldest snow sports gear manufacturers in existence, being in business since 1907.
DC Snowboards. Best known for their skateboarding footwear, DC broke into the snowboard makin' business in 2008 with great success.
Never Summer Snowboards. Never Summer is relatively new to the scene and is already kicking a lot of ass.
Other Popular Planks: Beginner, All Mountain, Park, Freeride, & Big Mountain
Ahoy mateys, you found treasure. What a surprise! This chest is stuffed full of the best snowboards for the 2017-2018 season. We've broken them down by category so you can find the one that's right for you.
In this section we take a closer look at some other popular options. Year-to-year, these models consistently win praise for being one of the best men's snowboards or best women's snowboards. Without further ado, here are the top picks.
Best Beginner Snowboards
Beginner Riding = Bunny Hills & Groomers
1. Burton Clash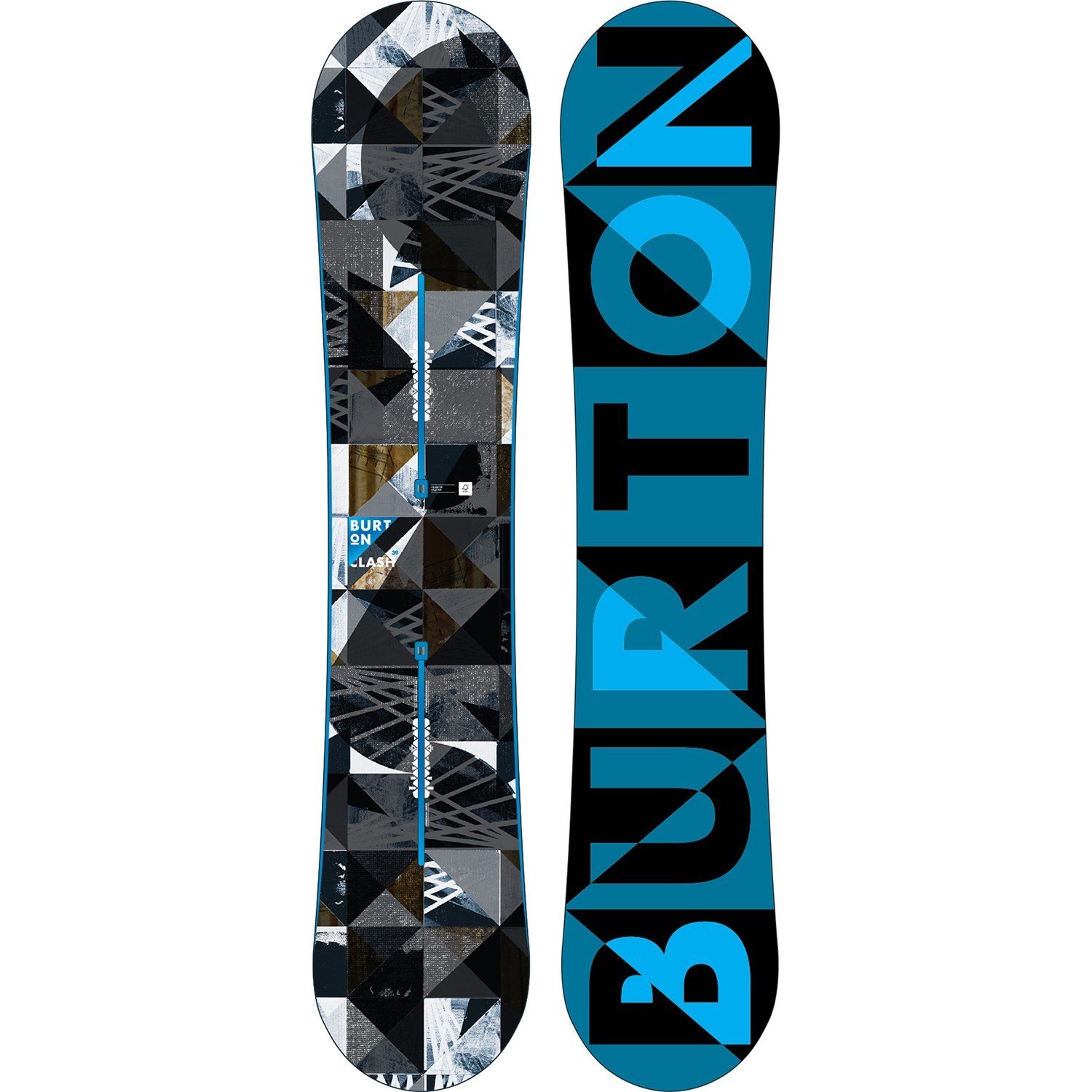 The Burton Clash Snowboard is both easy to ride and on your wallet. The flat camber allows beginners to get use to trusting their edge without being too stiff or catchy.
2. Arbor Whiskey Men's Snowboard
3. Yes Basic
4. GNU B-Nice Women's Snowboard
5. Burton Feather Women's Snowboard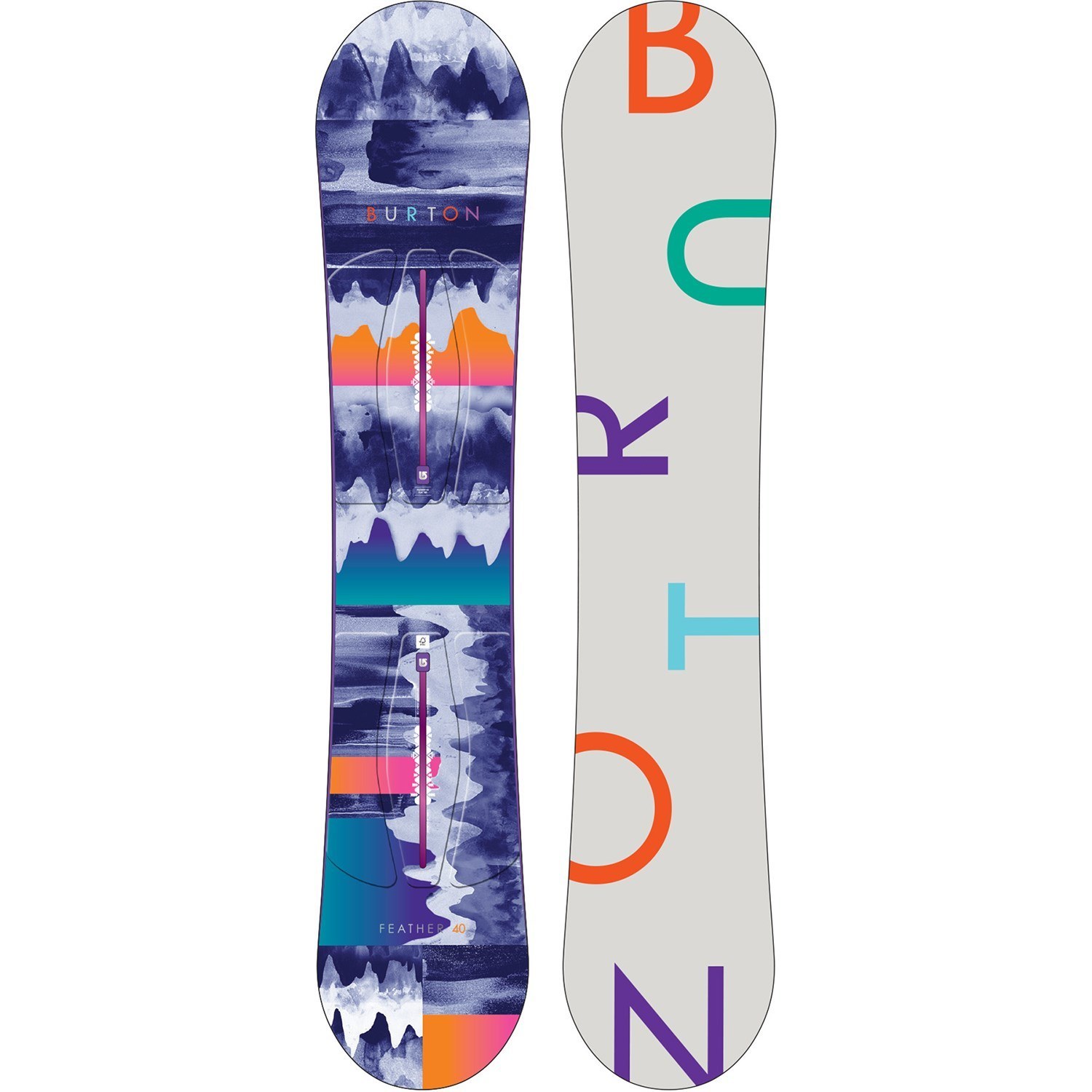 Best All Mountain Snowboards
All-Mountain Riding = Parks, Backcountry, & Groomers
This is one of the best do it all decks out there. An all mountain slayer, the Agent Rocker is designed with a pretty cool profile: a rocker in between the bindings and a traditional camber just outside of them. If you like to go off the groomers into some wilder terrain then hit the park on the way back down, the Agent Rocker is a perfect choice.
7. Burton Custom Flying V
8. Lib Tech T Rice Pro
9. Burton Lipstick Women's Snowboard
10. Never Summer Infinity Women's Snowboard
Best Park Snowboards
Park Riding = Man-Made Terrain & Rails
11. Burton Socialite Snowboard
The ultimate rail slayer. Go ahead, take it for a spin on your favorite triple kink. The flat profile with rockered tips will eat up anything you can feed it in the park.
12. CAPiTA Ultrafear
13. Never Summer Fun Slinger
14. Never Summer Onyx Women's Snowboard
15. Capita Space Metal Fantasy Women's Snowboard
Best Freeride Snowboards
Freeride = Natural Terrain & Backcountry Powder
16. Capita Spring Break Powder Hole
Those who may come from the beaches or who just enjoy the fluid feeling of surfing on snow, will love the Powder Hole Board. This is a full out powder board and one of the best in the powder snowboards class.
17. K2 Cool Bean Men's Snowboard
18. Burton Landlord Splitboard
Best Big Mountain Snowboards
Big Mountain Riding = Gnarly Terrain & High Speeds
19. Never Summer Raven
20. Jones Flagship Snowboard
21. Yes Pick Your Line Snowboard