Welcome to our best snowboard bindings page of the top-rated and most popular bindings for snowboarding. Bindings are the performance link between your boots and your snowboard. Quality bindings are the interface that transfers all your movements down into your ride. If the lines of communication are open everything flows nicely, if they aren't open bad things can happen.
The first stop on this run is a general discussion about the most important characteristics of a solid set of bindings. We share some basic info about getting the right bindings and how it pays dividends down the road. Following that, you can stop by the types of bindings section to see which best fits your riding style.
Check out the selection guide park for the key features to look out for before hitting that buy button. Last but not least, is the review section where you can peruse the best snowboard bindings for both men and women currently available.
15 Best Snowboard Bindings for the 2020-2021 Season
You've found the treasure. Here are the best snowboard bindings on the market. Our pages are updated regularly so you're always viewing the freshest information and latest product selections.
Oftentimes you can come across a top snowboard bindings sale from one of our partners, though the newest models probably won't be discounted for a considerable amount of time. Amazon offers some pretty competitive prices year-round but you can always go to a shop near you and do some price research.
Comparison Table: Top 15 Snowboard Bindings for Men & Women
This table features all of the bindings from our Top 15 list further down, but without as many details. We've put them in order of price range ascending to make it easy for you to compare features.
Closer Look: Top 15 Snowboard Bindings for Men & Women
All of the snowboard bindings from the table above can be found with more details below — in the same order for simplicity's sake. If we missed a set of bindings that you love, let us know!
1. Rossignol Gala [2021 Women's]
Flex Rating: 4
Experience Level: Beginner
Highback: Mainframe
Fit: Strap-In
Sizes: S/M-M/L
The baseplate on these classy women's snowboarding bindings is constructed from high-quality glass and nylon, for the greatest durability. What does the Gala do best? Combine comfort and response for a smooth ride.
2. K2 Sonic [2021 Men's]
Flex Rating: 3
Experience Level: Beginner
Highback: Regular
Fit: Strap-In
Sizes: S-XL
The K2 Sonic is a slightly older model of snowboard bindings from this brand, but you can still get your hands on them in a few different places. The design is simple, which makes the price better. However, it's important to know that K2 never sacrifices quality.
3. Flow Alpha [2021 Men's]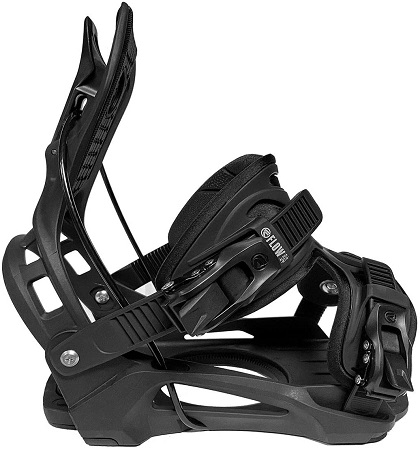 Flex Rating: 3
Experience Level: Beginner-Intermediate
Highback: Molded Composite Uniback
Fit: Rear-Entry
Sizes: M-XL
This is one of Amazon's Best Sellers for men's snowboard bindings. You get top quality binding for a middle-quality price — all covered by a 1-year warranty. The Rear-Entry design is simple but secure.
4. Burton Stiletto [2020 Women's]
Flex Rating: 4
Experience Level: Intermediate-Advanced
Highback: Single-Component
Fit: Strap-In
Sizes: S-L
For women, the Stiletto bindings from Burton are exceptional. With hardy highbacks and grippy toe straps, these are formidable bindings for serious riders. The Malavita bindings have garnered massive popularity lately and are a contender for the best women's snowboard bindings.
5. K2 Hurrithane [2019 Men's]
Flex Rating: 3
Experience Level: Intermediate-Advanced
Highback: Airlock Gap Eraser
Fit: Strap-In
Sizes: M-XL
The K2 snowboard bindings lineup this season has sold a lot of boarders on their brand. K2 has finally made their way into the picture of the best snowboarding bindings. The K2 Liens are a great middle-ground pair of bindings, but we really dig their freestyle bindings for park riding. Both the K2 Lien FS and the K2 Hurrithane offer legit tweakability taking flex to a whole new level. The Hurrithane's EVA footbed helps take the edge off high impact landings. We like the K2 Hurrithanes and they are arguably the best park bindings available right now.
6. Flux DS [2021 Men's]
Flex Rating: 4
Experience Level: Intermediate-Advanced
Highback: Ultimate Wing
Fit: Strap-In
Sizes: S-L
The Flux DS Bindings are an awesome middle ground with a 5/10 flex. They've got the butterability of a softer flex and a solid response time much like a stiffer set of bindings. These Flux bindings are entirely tool-less (besides the baseplate disc) so you can pretty much adjust anything on the fly. The Ultima Wing highback and honeycomb ankle strap round out this pair of bindings nicely.
7. Ride Rodeo [2020 Men's]
Flex Rating: 4
Experience Level: Intermediate
Highback: Stealth
Fit: Strap-In
Sizes: S-XL
Ride Rodeo Snowboard Bindings are unique in that they use an aluminum chassis to balance weight with durability. Not only will these bindings feel good — but they are going to look tremendous. The shaping is molded as thin as possible without sacrificing strength.
8. Burton Cartel [2021 Men's]
Flex Rating: 7
Experience Level: Intermediate-Advanced
Highback: Single-Component
Fit: Strap-In
Sizes: M-L
The Burton name is synonymous with snowboarding. Many people think of the Burton snowboard bindings line as the gold standard. Their two main models of bindings (Genesis and Cartel) are extremely popular. The cartels are favored by many as the best all-mountain snowboard bindings. They feature a medium stiffness (7/10), with a rock-solid strap in the ratchet system.
If you are an all-mountain rider and enjoy exploring the backcountry as well as hitting the parks these will serve you well. The extra padding helps with impact absorption and the firm straps add to the responsiveness. The Burton Genesis Bindings are another favorite of Burton fans and they keep getting better every year. The Genesis bindings offer a new two-piece hammock style highback that has performed very well on all areas of downhill: air and wall hits, early morning pow slashes, and ripping your favorite cat tracks.
9. Flow Omni [2021 Women's]
Flex Rating: 6
Experience Level: Intermediate-Advanced
Highback: Glass-Filled Nylon Modback
Fit: Rear-Entry
Sizes: S-L
Gals out there will enjoy the Flow Omni Bindings that offers more of a freestyle flex. You find the same Active Strap tech that allows for quick entry. The Omnis is easily one of the best women's snowboard bindings with rear entry available.
10. Salomon District [2021 Men's]
Flex Rating: 5
Experience Level: Intermediate
Highback: District
Fit: Strap-In
Sizes: S-L
Salomon has brought their best to the plate with their District Bindings. They've taken flexibility to the next level with a flexible heel cup that gives snowboarders a more responsive feel. Note: This could take some getting used to, but it will give you more control and help prevent injury in the long run. The flexible heel plate on these snowboard bindings works in tandem with the District Highback, to give you a good balance between support and response.
11. Union Contact Pro [2021 Men's]
Flex Rating: 4
Experience Level: Advanced
Highback: CP2
Fit: Strap-In
Sizes: M-L
If you need bindings for a freestyle in the park, these Union Contact Pro Bindings are perfect for you. Aluminum ratchets, and a soft to medium flex level gives you strength and better responses.
The Duraflex is the trademarked nylon that's used in the bindings, by Union Binding Company. It's made specifically for cold temperatures so you'll be getting the best feel on the slopes.
12. Flow Fuse GT [2021 Men's]
Flex Rating: 6
Experience Level: Advanced
Highback: Aluminum Alloy Modback
Fit: Rear-Entry
Sizes: M-XL
The king of rear entry bindings, Flow is credited for coming up with that design. The Flow Fuse GT is their best rear entry model to date. All you have to do is bend the highback, slip your foot in, and then lock your feet in. The last step is to turn around and laugh at your buddies who are still sitting in the snow ratcheting away. It is pretty convenient, especially when trying to get a bunch of rounds in on shorter runs.
The Flow Fuse GT's rear entry system is top of the line. You don't sacrifice much performance and the medium-stiff flex performs well in most situations. Definitely one of the best rear entry bindings out there.
13. Rome Katana [2021 Women's + Men's]
Flex Rating: 8
Experience Level: Expert
Highback: Asym Katana
Fit: Strap-In
Sizes: S/M-L/XL
These snowboard bindings are a great option for both Men and Women boarders. They are available in three sizes and feature easy adjustability for the best fit possible. What do we love about the Rome Katana Bindings? The extra support around your ankles to give you more stability and control.
14. Burton Escapade [2021 Women's]
Flex Rating: 6
Experience Level: Advanced – Expert
Highback: Canted Zero-Lean
Fit: Strap-In
Sizes: S-L
There are a lot of great features about the Burton Escapades that all women snowboarders would benefit from. They are a lighter version of Burton's Lexa Binding, another jack-of-all-trades bindings, that still give you a ton of flexibility. Burton's straps on the Escapade encompass the entire boot for a secure fit.
15. Burton X EST [2021 Men's]
Flex Rating: 9
Experience Level: Expert
Highback: Carbon Composite
Fit: Strap-In
Sizes: S-XL
These Burton's are some of the most expensive on the market but they are a lifetime investment. Why? Well, the baseplate is literally covered by a lifetime warranty. Built from titanium and carbon fiber, the X EST bindings are well cushioned and secure enough with Burton's Supergrip Capstrap 2.0 to tackle the steepest terrain. If you can afford the cost, these are Burton's lightest all-mountain bindings they have ever created.
The Captain's Orders: Buy Hassle-Free Snowboard Bindings
Arguably the most important aspect of snowboard bindings is a quality ratcheting system. The last thing you want to be doing is dorking around with your bindings for 15 minutes when your buddies have already taken off down the run and left you behind. Sure some people will buy the bindings based on looks alone, then on their 3rd trip up to the mountain, they break a strap trying to tighten them up. That's what we like to call a bummer.
Then they're out a day plus the cost of a lift ticket while they go buy higher quality bindings that would have saved them all of that trouble in the first place. That's why experts will say buying expensive bindings are a "cost-effective" investment. You'll probably want to stay away from cheap snowboard bindings unless you are a greenhorn in which a budget pair of bindings starts to make a lot more sense.
What's Next?
Once you've identified a pair of bindings with a quick and easy binding system, you're ready to get down to the specifics. A big factor that will help narrow things down is selecting the type of bindings you want based on your riding style. If you're not sure, you may want to go with one of the best all-mountain snowboard bindings.
These types of bindings are like the jack of all trades, they don't do one single thing extremely well but they can do it all decently. Truth be told, an experienced rider can make nearly any set of bindings work. However, by perfectly calibrating quality snowboard boots and bindings experienced riders are able to work magic and make their board do their bidding — creating a feeling of oneness with their board. Those who like to tinker with things will enjoy this part of board optimization.
What Do I spend?
Though we do highly encourage buying quality bindings there is an exception. For those brand new to snowboarding and fairly raw beginners, it doesn't make sense to drop $300 on a shiny new pair of the latest snowboard bindings. The hard truth about snowboarding is that a lot of people never make it out of the learning stage.
Most people and especially snowboarding gear manufacturers will never tell you that, they love making a killing on selling fancy gear to greenhorns. Snowboarding can be difficult to learn, especially if you don't dedicate at least a few consecutive days to getting it down. Trusting your edge feels unnatural at first and it takes some time to get the right muscle memory down.
The bottom line is falling over and over sucks.
When guys on TV and YouTube are making it look easy, newcomers to the sport get quickly discouraged and give up. That is why in most cases, we recommend buying a less expensive beginner pair of bindings if you are new to the sport.
The fact that most bindings use a ratchet system, most sets will work for older kids and women. There are some distinct bindings marketed as "kids snowboard bindings" and "youth snowboard bindings" for young children that are competitive and looking for the best in performance.
Snowboard Bindings Guide Part I: Types of Snowboard Bindings
For all intents and purposes, there are four main kinds of snowboard bindings. The best freeride snowboard bindings are going to be a little different than the best park bindings. A pair of bindings will usually find a place under one of these umbrella categories:
Freeride Bindings
The steep and deep calls for a stiff pair of bindings that will hold up to extreme speeds and responsive, quick energy transfers. Freeride bindings are built for going fast, deep powder, and challenging terrain. You don't want to be caught out on an Alaskan mountain face with soft flexing highbacks, good luck making it down in one piece.
Freestyle (Park) Bindings
The ideal match for riders who spend most of their time in the terrain park laying down tricks. Freestyle snowboard bindings usually have a very soft flex. This flex is more forgiving of rider error making for easier landings and the ability to tweak grabs and the like. Basically, mounting thick, stiff carbon fiber beasts onto a soft, buttery board isn't going to be a good match for optimal park riding.
All-Mountain Bindings
For the rider who wants to do a little bit of everything, all-mountain snowboard bindings are ideal. Groomed runs, powder, park, etc. these bindings will serve well. The key characteristic of all-mountain bindings is that they usually have medium flex for all-purpose use.
Beginner Bindings
Technically this isn't a category in its own right, but it is an important distinction to make. Beginner bindings usually fall into the multipurpose all-mountain category and are generally more affordable. This helps those new to the sport figure out what they like best whether it be speed or park (or if they can even learn and enjoy boarding in the first place) before they end up dropping a grand on specialized gear.
Snowboard Bindings Guide Part II: What to Look for in the Right Bindings for You
Follow these general tips and you'll be sure to get off on the right foot when making a selection. For install tips, check out REI.com's page.
Flex:
Many manufacturers will give their bindings a flex rating. The score ranges from 1 to 10, 10 being the stiffest and 1 being the softest. Though flex and feel will ultimately vary from binding to binding this is a good approximate number to go by. Mellow park riders will enjoy the feel and tweak of softer flexes while those chasing pro lines or riding icy superpipes will desire the instant response from stiffer bindings.
Baseplate:
Hand-in-hand with flex is the baseplate which is the main connecting part between the binding and the snowboard. Baseplates are constructed using a variety of materials offering different strength to flex ratios.
Butter:
A board's butter ability is basically how much flex it allows. This enables the boarder to do flatland snowboarding tricks. A butter is toe presses or heel presses followed by spinning. If you're trying to do these tricks you want soft flex bindings to match that buttery board.
Materials:
More advanced materials generally are lighter-weight and lead to enhanced performance. Lower priced bindings will get the job done, but the highback and baseplate probably won't be as responsive and long term durability may be compromised. Always look for quality straps and ratchets, if there are complaints about them breaking easily you don't want to touch them with a 10-foot pole.
Easy Entry:
In the next section, we talk about some of the quick entry bindings and how they work. The most popular design is rear entry bindings where you slip your feet in, fold up the highback and then you're good for takeoff.
Boot Support & Padding:
Generous cushioning and robust support straps equate to reduced vibration and a smoother ride. Especially if you like to chase big booters, the right amount of padding and boot combination will help reduce the impact on your joints.
Snowboard Bindings Guide Part III: Strap-In Bindings vs. Rear-Entry Snowboard Bindings vs. Step-In Snowboard Bindings
Strap-In
Strap in bindings is the traditional snowboard binding and the most common type. They typically feature two straps with one across the ankle and one above or across the toe. There are boarders who prefer a strap across the toe (toe strap bindings) while others prefer over the toe. In the end, there isn't a notable performance difference in these toe strap designs.
Some pros won't use anything but strap-ins because they argue they these traditional bindings offer the best in support and security. They certainly anchor your feet to your snowboard. The downside is that oftentimes you'll have to sit down in the snow before each run and ratchet them tight.
Rear-Entry
Rear entry bindings are also known as speed entry bindings. Flow was the first manufacturer to come up with this design so that's why a lot of the time you'll see people toss around Flow bindings in a discussion about rear entry bindings.
However, now there are other companies that manufacturer these types of bindings not just Flow. Basically, these bindings feature hinged highbacks that drop-down much like a drawbridge. Then you can step into the binding for quick access in and out. These types of bindings get points for quick access, no more making skier friends wait on you. The downside is that you may sacrifice a little performance for convenience.
Rear-entry snowboard bindings also have been plagued by issues with poor design such as things breaking often, being a pain in the ass to set up or adjust, and latches coming undone and falling off too easy.
That being said, over the last couple of years designs have got much better.
Step-In
Step-in bindings aka clickers were a short-lived alternative to traditional bindings. A lot of people get step-in snowboard bindings confused with rear entry bindings but they are not the same. Snowboard step-in bindings are matched with step-in boots which have a locking mechanism on their sole that is compatible with that particular step-in binding. You step in and the boot locks into place with a click and you're off. That clicking sound is why many mountain goers took to calling them clickers.